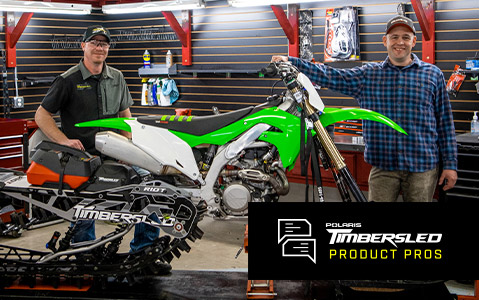 Our Timbersled Product Pros are here to help. They are our passionate experts out of Sandpoint, Idaho who can help make sure you find the right Timbersled system for your bike.
The right Snow Bike for your terrain and style
The perfect accessories to get your dirt bike ready for snow
Finding the right Install Kit for your bike
How to set up your Timbersled
Contact Your Dealer on Questions About:
Sales events and rebates
Warranty information
Making a purchase of a Timbersled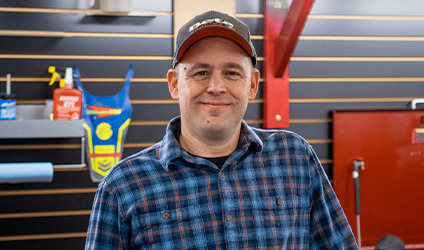 Lead Development Technician, and Timbersled Product Specialist, aka a "Product Pro"

Age: 46 Lives in: Idaho
Dirt Bike Background: Started riding dirt bikes around age 10, also bicycles and skateboards, "but all I ever wanted since I was a kid was a dirt bike."
Snowbiking History: Dale and his brothers were producing lightweight, high-performance snowmobile components, including suspensions, when they started riding snowbikes. His brother Allen saw the tremendous potential for snowbike systems, and founded Timbersled. Dale was an original Timbersled employee, and has ridden virtually every Timbersled system – including the original 2009 prototype – over the years.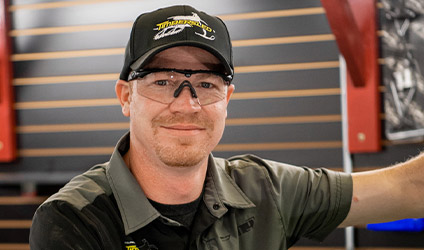 Timbersled Product Specialist, aka a "Product Pro"

Age: 39 Lives in: Montana
Favorite Dirt Riding: Dirt bikes in the mountains, lots of single tracking, mostly on his Husqvarna FE 501
Snowmobiling: Lots of mountain riding experience, mostly on PRO RMK models
Snowbiking: Has ridden numerous Timbersled systems; will be riding a Riot 3 Pro this winter; especially enjoys deep snow and tight tree riding in the mountains
All questions on online order status or returns should be directed to the Polaris Customer Service Center. 1-800-765-2747 Mon-Fri, 7am-7pm CST