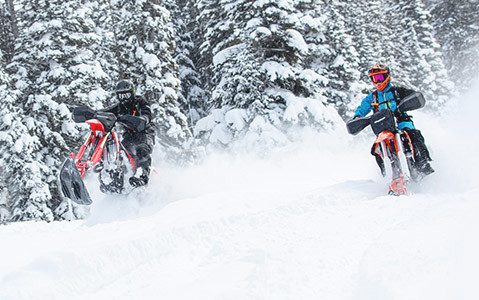 MOST DIRT BIKE-LIKE FEEL ON SNOW
RIOT BUMPER & SNOW FLAP– NEW lightweight, durable bumper for easy mobility. New snow flap provides added rider protection and minimizes snow build-up.
RIOT TRAVERSE TRACK – Convex design to mimic the feel of a tire with additional porting for reduced rotating mass and increased responsiveness.
RIOT SHOCKS – RIOT Tuned Timbersled IFP, FOX QS3, or Walker Evans Racing Velocity for extra fun and playfulness.
RIOT TRAVERSE SKI – Deuce Bar Center Skag for lighter steering and smoother travel over obstacles.
RIOT REAR SUSPENSION – All NEW Single Arm Rear Suspension provides a shorter feel and is designed to be lightweight, playful and rider responsive.
INDUSTRY LEADING PRECISION AND HANDLING
ARO REAR SUSPENSION – ARO rear suspension geometry features an optimized approach angle for increased lift in deep snow and lighter ski feel for more comfortable trail rides.
ARO SHOCKS – Timbersled IFP, FOX QS3, or Walker Evans Racing Velocity shocks specifically tuned to ARO for enhanced ride performance.
ARO TRAVERSE SKI – Traverse skag and tri-keel design for better grip, precise handling and more control in deep snow.
ARO TRAVERSE TRACK – Designed for ARO with maximized flotation and optimized traction. Tapered design mimics the feel of a tire.