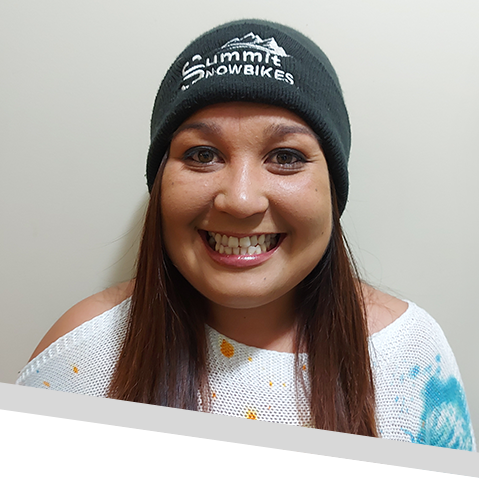 State: British Columbia, Canada
Timbersled: Riot3 Gen 2 S Pro
Favorite place to Ride: McCall, ID and Golden & Sicamous - British Columbia
Born and raised in rural Australia, Tessa has always loved riding dirtbikes and spending time outdoors.
In 2015 Tessa was introduced to snowbikes by her husband, Shannon (a story to tell another day ;) ) when they went on a travel adventure through the US and Canada. Soon after, they settled in beautiful British Columbia, where Tessa instantly fell in love with snowbiking and snowboarding in the Canadian Rocky Mountains.
A co-founder of Summit Snowbikes rental company, Tessa has introduced many new riders to snowbiking with her encouragement and passion of the sport. She plans to get as many ladies and new riders out onto the snow this winter as possible. And at barely 5ft tall and missing half of her clutch finger, Tessa proves that the sky is the limit!
For Tessa, snowbiking is empowering, the ultimate freedom of riding a dirtbike, where you choose any line you want, go anywhere you want to go!