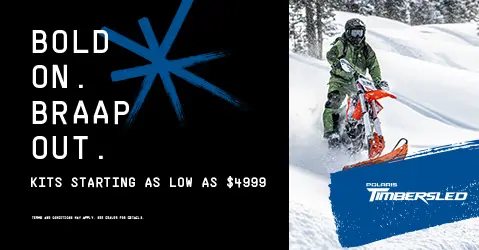 Timbersled Snow Bike System Special Offers
Find rebates and financing offers on Polaris Timbersled Snow Bike Systems. Find the best deals and coupons on Timbersled parts, apparel and accessories.
Find Special Offers
Open Dialog
Featured Offers
No current offers available at the time, check back soon.
Save $250 when you spend $750 on parts, accessories and apparel.
Save $250 when you spend $750 on parts, accessories and apparel.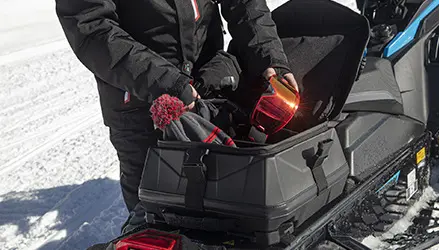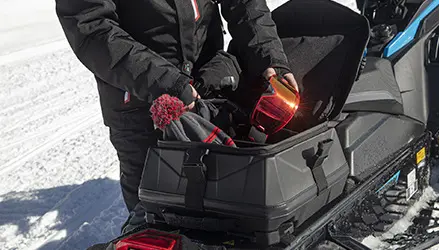 ---
---
---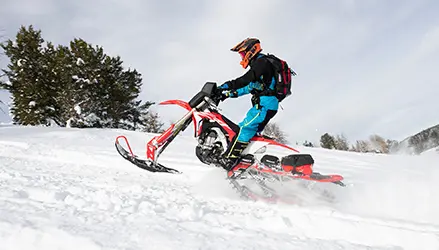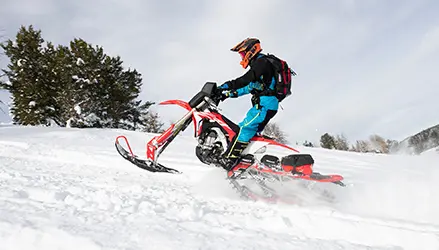 $250 off $750 purchase on all Polaris SNOW and TIMBERSLED parts, accessories, and riding gear. Restrictions: Offer valid from January 1st – March 31st, 2022. Purchase $750 worth of Polaris PG&A items and receive $250 (US or Canadian Dollar) off. Limit one (1) coupon per customer can be submitted. Maximum coupon value of $250 (US or Canadian dollar). Sales event offers cannot be stacked with any other coupon offers. Dealers and Employees are not eligible for the discount. Not valid on non-Polaris products or after the expiration date. Offer subject to availability while supplies last. In-stock items only. This offer may be discontinued or modified at any time by Polaris. Offer available only in the US and Canada. Void where prohibited or otherwise restricted. By submitting this coupon with your name and email, you authorize and consent to Polaris Industries Inc., and its affiliates, subsidiaries and authorized dealers contacting you via phone, email, direct mail and other forms of communication about Polaris, its products, offers, or marketing materials. Offer is valid on Polaris.com, in authorized Polaris dealerships and retail stores, and online with authorized Polaris dealer websites for Polaris branded accessories, parts, lubricants, apparel, garage and other non-whole good products (collectively "PGA") offered in the 2022 Polaris PGA Snow and Timbersled catalogs. This offer is not redeemable for cash or gift cards. Not valid on non-Polaris products or purchases before January 1st or after March 31st, 2022. Returns of any portion of the purchase will require equal forfeiture of offer or amount equal to the offer. Applicable tax, shipping and handling do not qualify for discount. Polaris recommends that all riders take a safety training course. Do not attempt maneuvers beyond your capability. Always wear a helmet and other safety apparel. Read, understand and follow your owner's manual. Never drink and ride. All Trademarks noted here are owned by Polaris. 2022 Polaris Industries Inc. Dealer Instructions: This is a Polaris OEM Coupon. For reimbursement log in to your Polaris dealer website then go to dealer management on the blue tool bar and click coupon redemption to log in and proceed with the submittal process. Scan the coupon along with the original sales slip that indicates the discount was issued at time of purchase, including all applicable part numbers and product descriptions. Dealer must check the box on which offer was used and highlight corresponding items on the original sales slip. All redemptions must be submitted by April 15th, 2022 or earlier. Incomplete redemptions will not be credited, and credit amount given will not exceed amount given to the customer. All redemptions will be charged to the dealer parts account.