Timbersled RIOT 120 Features
The Timbersled IFP coilover shocks are a proven, durable design for consistent suspension performance.
The FOX Racing QS3 remote reservoir shocks feature an easy, three click compression adjustment. High performance shock technology and compression adjustment enables easy tuning to any terrain.
The all-new Walker Evans Racing® shocks are the most premium, high performance shocks ever offered on a Timbersled. The Velocity design has been proven in the toughest conditions on Polaris snowmobiles, and now that technology comes to Timbersled. Through the position sensitive needle and tuned remote reservoir design, they offer superior feel and bottom out resistance. High and low speed compression adjustment allow the shock to be fine-tuned for any terrain. Race-inspired lightweight drivetrain components exclusive to the velocity model put the power down even faster..
Timbersled RIOT Rear Suspension
The new single arm rear suspension combined with the raised drive shaft and centralized mass allows the Timbersled RIOT to mimic the feel and performance of your dirt bike. The dual shocks are tuned specifically for RIOT for fun and wheelie control.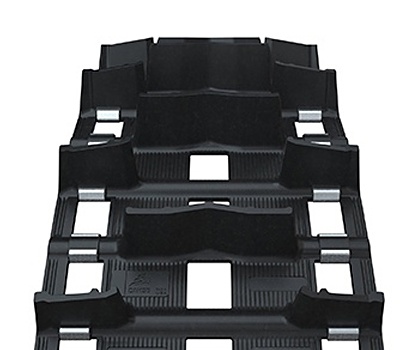 The Timbersled Traverse Ski has been updated for RIOT with a new Deuce Bar Center Skag for lighter steering and smoother travel over obstacles. The RIOT 120" track is the proven Timbersled 120" Traverse track with added porting to make it lightweight, increase track speed and increase playfulness.
The RIOT has a bumper and snow flap that upgrades the look and style while providing rider comfort. The bumper is lightweight and integrated into the RIOT frame for increased durability. While the snow flap was designed to keep snow off the rider and eliminate snow build-up on the tunnel.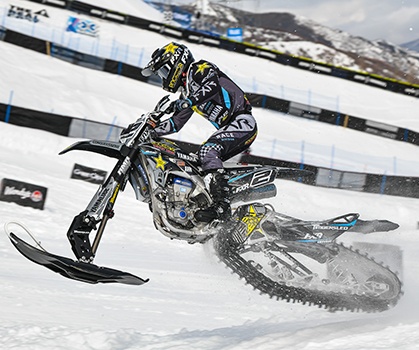 Timbersled has been dominating for years – from local tracks to X-Games gold medals. This race-proven design is incorporated into every Timbersled built..
Aluminum Frame & Extruded Rails
Aluminum frame is both strong and lightweight. Extruded frame rails provide increased durability.
Timbersled brakes come from the factory pre-bled, ready to ride. A molded plastic brake cover eliminates ice and debris build up in the system.