Timbersled ARO 3 Features
Timbersled Suspension Strut (TSS) Install Kit
Easily adjustable for all riding styles, the TSS Install Kit provides up to 70% more rear suspension travel and restores your dirt bike's natural suspension feel and pivot point.
The FOX Racing QS3 remote reservoir shocks feature an easy, three click compression adjustment. High performance shock technology and compression adjustment enables easy tuning to any terrain.
Walker Evans Racing® Velocity
The all-new Walker Evans Velocity shocks are the most premium, high performance shocks ever offered on a Timbersled. Through the position sensitive needle and tuned remote reservoir design, they offer superior feel and bottom out resistance. High and low speed compression adjustment allow the shock to be fine-tuned for any terrain. Race-inspired lightweight drivetrain components exclusive to the velocity model put the power down even faster.
Climb the highest mountains in the deepest snow with the industry's first 3" track. This track provides ultimate performance in deep snow conditions with increased floatation and traction.
The ARO 3 extrovert drivers improve efficiency by transferring more power to the snow for better deep snow performance.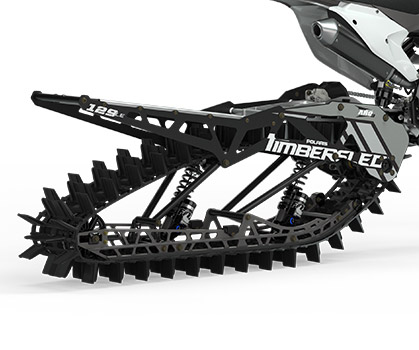 Timbersled ARO Rear Suspension
The ARO rear suspension geometry features an optimized approach angle for increased lift in deep snow and lighter ski feel. Premium FOX® ZERO QS3 shocks come standard.
Timbersled has been dominating for years – from local tracks to X-Games gold medals. This race-proven design is incorporated into every Timbersled built.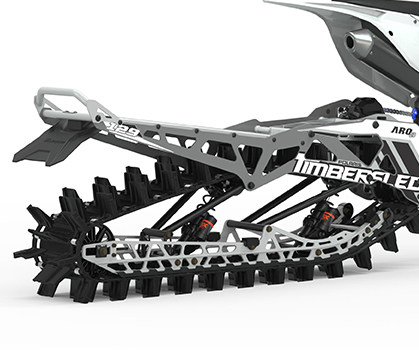 Aluminum Frame and Extruded Frame Rails
Aluminum frame is both strong and lightweight. Extruded frame rails provide increased durability.
Timbersled brakes come from the factory pre-bled, ready to ride. A molded plastic brake cover eliminates ice and debris build up in the system.