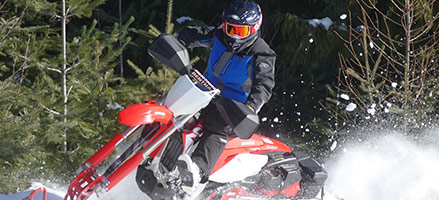 First Ride Review: 2020 Timbersled Riot & Riot LE Snowbike System
What it's like to ride a snowbike, and the differences between the Riot and ARO models
It's not often I get to try something completely new, but recently Dirt Rider got a call to learn about, test, and ride some dirt bikes equipped with Timbersled snowbike systems, and I was asked to be a part of the group. Not only did we get the VIP treatment of riding the current-model Timbersled ARO, but we were also given very special access to test Timbersled's all-new 2020 Riot and Riot LE. It was a full day of unlimited riding in the mountains just outside of Timbersled's home base in Ponderay, Idaho.
The riding began in a meadow so everyone could get an understanding and feel for riding a snowbike. I was given some basic pointers from Timbersled's Brett Turcotte. He offered me some of the do's and don'ts to being successful on a snowbike. He advised me to keep the throttle on, trust the ski, and don't put your feet down when stopping, or else you will tip over. I started out on the Timbersled ARO and, not wanting to look like a goon, I made sure to remember his tips.
Fortunately, I successfully made it through the first 30-minute trial ride and was deemed competent and safe to graduate to the all-new Riot. I spent another 30 minutes successfully familiarizing myself with this new platform and its different handling characteristics. After the one-hour orientation in the meadow, Brett determined I was doing well enough that I would not be too much of a hazard to myself and said, "Let's go hit some backcountry." Honestly, I was amazed at how easy it was to learn.
Since this first ride review is supposed to be about the new 2020 Timbersled Riot and Riot LE, I am going to focus more on the differences, changes, and characteristics in comparison to the ARO model. If you own or just purchased an ARO, don't worry; Timbersled will continue producing it as a mountain, open backcountry model. The new Riot system is designed to be more dirt bike-like for competition racing and tighter woods areas.
Timbersled prides itself on its snowbike systems being "Timbersled tough" and the new Riot does not show any visual signs of weakness over the ARO by combining proven Timbersled ARO technology, but with an all-new Riot platform with its specific patent-pending rear suspension system. The Riot uses a single long-arm rear suspension and shocks that are specifically tuned for it. It also has new lightweight suspension rails that the new dual Timbersled IFP fully rebuildable shocks support. The Riot frame has also been shortened in an effort to centralize weight and improve handling.
The Traverse Track features additional porting windows both in front and behind each paddle to help reduce even more weight and increase its playful riding sensation. For the rider who wants an even higher performance kit, they can upgrade to the Riot LE, which has Fox Zero QS3 shocks that are designed specifically for it. These adjustable shocks help control wheelie and ski pressure in an effort to optimize its nimble handling characteristics. Some differences on the Riot LE over the standard Riot are the color-matched spindle, rails, and ski loop. The Riot LE retails for $5,499, while the Riot is priced $1,000 less at $4,499. Up front, the Riot comes with the same bolt-on Timbersled spindle that's on the ARO. Attached to the bottom of the spindle is Riot Traverse Ski featuring a new Deuce Bar Center Skag, which is intended to eliminate drag and provide confidence-inspiring control.
The million-dollar question is, did these changes make the Timbersled feel more like a dirt bike? The answer is yes! The more I rode and got out into open fresh snow, the more I began to really understand what this is all about. I was able to go back to back with the Riot and ARO models throughout the day and the differences between them were significantly noticeable.
As a hard-core dirt bike rider, if I were in the market to buy a new snowbike system, there is no doubt in my mind I would want to go with the Riot LE as it was the closest to feeling like a dirt bike. It was easy to learn, more agile, had quicker turning, and was just more fun for me overall. Its adjustability and higher-performance suspension will certainly be a benefit to the rider as he or she progresses through the learning curve. The rear shock adjustability was very noticeable and worked just as described. Opening the adjuster allowing the shock to compress much easier gave the Riot more of a short track feeling and made the bike much easier to wheelie. But once you got out into fresh, deep snow, you could crank the adjuster back in to firm it up and make it feel like an ARO long track that is ready to climb.
Timbersled told us the ARO would be better in bigger, more wide-open areas, and possibly when climbing, but at no point did I feel like the Riot was giving anything up in the deeper snow or hillclimbs. In powder snow, carving turns was much easier and within 20 minutes, I felt like I could bury the handlebar at will. When riding up hills, I felt I was only restricted by the bike's power, and not the snowbike system. We did some cross-country riding through areas I would have never imagined as being possible on a dirt bike. However, it was like a day in the park on this snowbike system. Being a motocross and off-road rider, there is no doubt the Riot LE would be my choice.