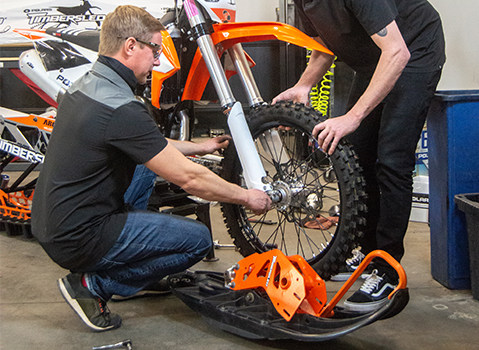 Installation is easy. Choose to follow along with our step by step instructional video, or click on the link below to download written instructions. If you have any questions along the way, our team of Timbersled Product pros are here to help.
Installing Your Timbersled
The Timbersled snow bike system is easy to install, with no permanent modifications to your dirt bike! Installation is as easy as removing the rear swingarm, tire, and shock from your dirt bike, and bolting on the Timbersled track system utilizing a model-specific Installation Kit. After removing the front wheel and tire, the ski and spindle assembly is easily installed with dirt bike specific fork clamps and spacers included in the install kit.

Have Installation or fitment questions? Call us at 888.588.6326
Our Timbersled Product Pros are here to help. They are passionate experts who can help you get the answers you need for anything Timbersled related. Available 11 AM - 5 PM PST (M-F).