Timbersled RIOT 3 Features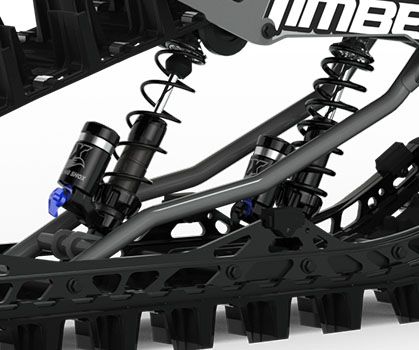 The FOX Racing QS3 remote reservoir shocks feature an easy, three click compression adjustment. High performance shock technology and compression adjustment enables easy tuning to any terrain.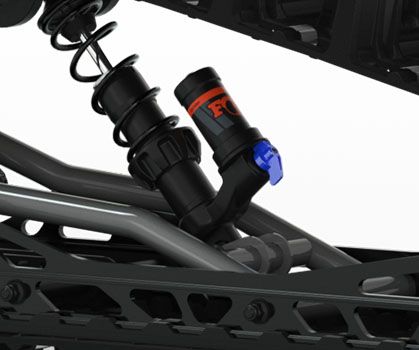 The all-new IBP QS3 shocks from FOX Racing set the standard for snow bike performance. The Internal Bypass (IBP) design is position sensitive, reacting to where the shock is in the stroke. This position sensitivity delivers a smooth ride over stutter bumps and rough terrain, while maintaining bottom out resistance for bit hits and drops. The shocks feature an all-new lightweight design, which reduces critical unsprung mass and improves the overall performance of the Timbersled. The QS3 adjustment features three quick select compression settings, easily tuning the Timbersled to the riding style and conditions.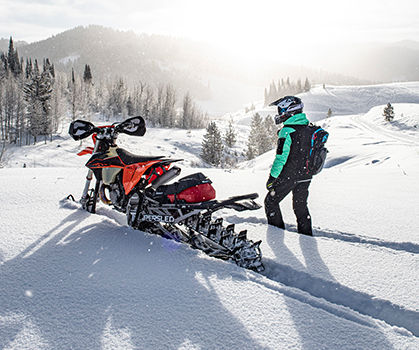 The S package features a shorter front spindle and rear shocks, lowering the system while delivering strong suspension performance. With a 3" lower seat height, the RIOT 3 S enables the rider to dominate the powder with ease and agility..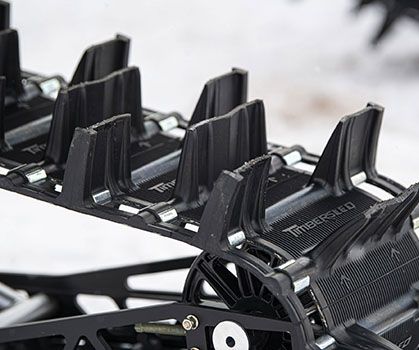 Climb the highest mountains in the deepest snow with the industry's first 3" track. This track provides ultimate performance in deep snow conditions with increased floatation and traction.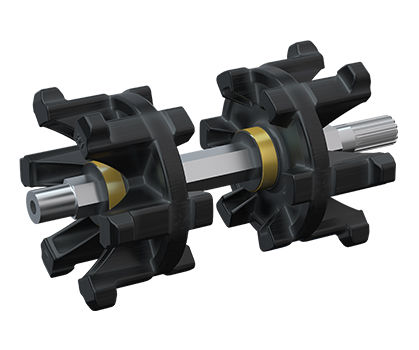 Timbersled RIOT 3 Drivers
The RIOT 3 extrovert drivers improve efficiency by transferring more power to the snow for better deep snow performance.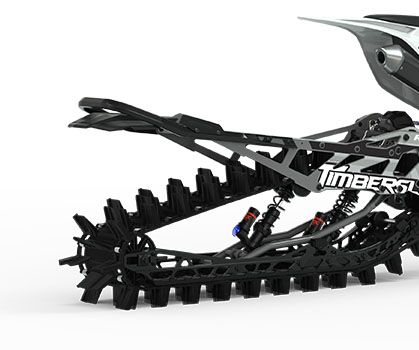 Timbersled RIOT Rear Suspension
The single arm rear suspension combined with the raised drive shaft and centralized mass allows the Timbersled RIOT to mimic the feel and performance of your dirt bike. The dual shocks are tuned specifically for RIOT for fun and wheelie control.
QDT delivers top performance with an ultra-durable belt drive design featuring hardened steel sprockets, a quicker spool up for faster power delivery, and a 48% reduction in inertia. The belt is significantly less maintenance than a traditional chain system while also minimizing noise and vibration on the mountain for a more enjoyable ride.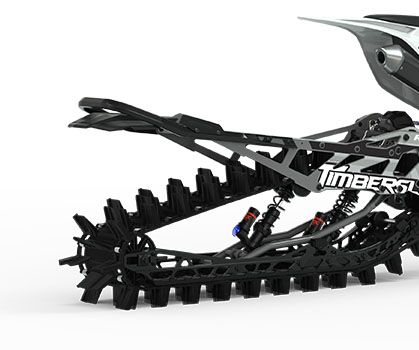 Aluminum Frame and Extruded Frame Rails
Aluminum frame is both strong and lightweight. Extruded frame rails provide increased durability.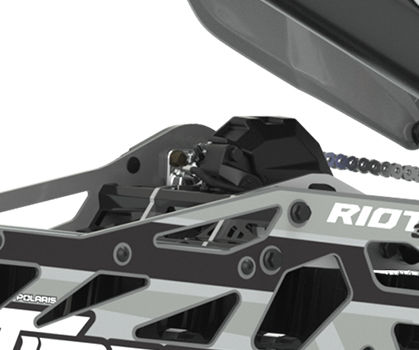 Timbersled brakes come from the factory pre-bled, ready to ride. A molded plastic brake cover eliminates ice and debris build up in the system.