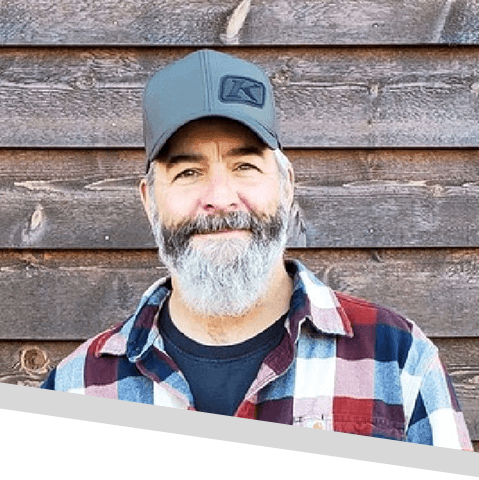 State: Michigan
Timbersled: Timbersled ARO 3
Favorite place to Ride: Keweena Penisula in Michigan
Paul has been riding snowmobiles since the early 70's wedged between his parents while out for family rides. Once he was old enough he worked summer jobs until he could save up enough to buy his first snowmobile. Spring, summer and fall are spent on a dirt bike, street bike, or anything with 2 wheels. Dirt bikes, motorcycles and snowmobiles have been a lifelong passion. About 3 years ago, Paul was looking for a street legal dirt bike and found the bike he wanted but it had a Timbersled attached to it. He bought it thinking he would sell the Timbersled. A good friend of Paul's talked him into going out for a ride on the Timbersleds and that was the beginning. He is now fully hooked on Timbersled riding. It has become his favorite thing to ride. Paul really enjoys the camaraderie of the sport and spending time out riding with new and old friends. It helps set the mood for a new week when you can look back at the ride from the weekend and smile your way thru the week! He is a Timbersled and Polaris salesman in the Western UP of Michigan and always tries to take out his new Timbersled customers for their first ride to help them with getting comfortable on the bike. Being an experienced Timbersled rider really helps when working with a customer to help them pick out the kit that fits their riding style, getting their bike set up and picking out accessories and clothing that will work best for them. He also does group rides on Sundays starting with breakfast at his house and then heading for the backcountry. Living in the Keweenaw seems to always have great lake effect powder to ride. Paul has an amazing wife that really enjoys snowmobiling, dirt bike riding and anything outdoors fueling his passion too! He feels truly blessed with the life he gets to live and the people he shares it with. He is looking forward to helping more people get into Timbersleds and enjoying a new riding experience!